Digital, Industry and Space
POLIFOLIO
Crowdsourced Policy Portfolio Composition
The strategic policy-making process often includes several "beneficiaries" (e.g. citizens, customers, workers, businesses) and a smaller number of "decision-makers" (managers of public and private organisations, etc.). Developing a strategy is also complicated because of the potentially large number of policy combinations and their impact on the beneficiaries, which, however, provide limited input in the composition of the final policy portfolio. The projects intends to develop an innovative methodology, and the necessary IT open source infrastructure, for the facilitation of the "co-creation" of interventions by all the stakeholders involved, using crowd-sourcing techniques, modelling / simulation of complex systems and open data sources. The proposed methodology comprises three phases: Initially, the decision makers define Key Performance Indicators and the "action frameworks" in a graphical modelling environment. Afterwards, the beneficiaries, with the help of the IT system, propose action combinations and are made aware of their potential effects. Finally, the decision-makers analyse the multiple action combination provided by the beneficiaries and compose, in a holistic manner, their policy portfolio. The project is based on the synthesis of skills and know-how from the academic and private sector, and has a market orientation. This orientation is reflected on the expected results and the implementation methodology.
The research activities will contribute, among others, in the fields of modelling, simulation and optimization, operations research and decision support systems, strategic analysis, human-computer interaction and software technologies, the use of Open Data, e-government and e-business. The results of the research activities will be published in academic conferences and journals.
For more information click here.
HP-OCP
Holistic, High Performance Optimization Computing Platform



The principal aim of the proposed project is to create and test methodologies for the application of optimization techniques in different design phases of civil structures by developing strong synergies among a multi-disciplinary team of SMEs and academic experts. The consortium consists of ACE Hellas, Diadikasia Business Consultants S.A. and the National Technical University of Athens. A first goal of the project is to exploit the use of optimization techniques in computer aided design. Moreover, the Network intends to exchange ideas, propose formulations that correspond to real-life applications and develop solutions for optimal multi-disciplinary architectural design. Of particular interest is the combination of criteria deriving from structural mechanics, eco-design, bioclimatic design and acoustic performance.
For more information click here.
TRANSFARENCY
Innovative system ensuring transactions transparency and security on ecommerce deliveries



TRANSFARENCY aims to leverage Blockchain/DL technologies and their embedded smart contracts to solve critical issues regarding the transfer of e-commerce products via the supply chain ensuring transparency and security of the transactions occurring in these systems. More specifically, it will solve identification issues as regards the users involved in the transfer, delivery, and receipt of products using digitally signed transactions with keys issued by Public Key Infrastructures (PKIs) and managed by dedicated applications called 'wallets'. Moreover, TRANSFARENCY will allow the transparent track and trace of a product and its status (near) real time by the involved stakeholders, i.e. both courier company employees and customers, and the immutable logging of the most critical operations of the system so that both customers and couriers are committed to their declarations and cases of repudiation and disputes are eliminated.
In frames of TRANSFARENCY, the integrated prototype of the system will be installed in CERTH premises in order for it to be evaluated and validated under real-world conditions by real ACS users who will be given remote access to the system. Special attention will be given to the exploitation potential assessment and business modelling towards the provision of commercial viable products and services after the end of the project. TRANSFARENCY consortium will be consisted by: DBC, CERTH, ACS and the project will be implemented in thirty (30) months.
For more information click here.
5G-Traffic
Estimation, Prediction and classification of 5G Networks traffic using Machine Learning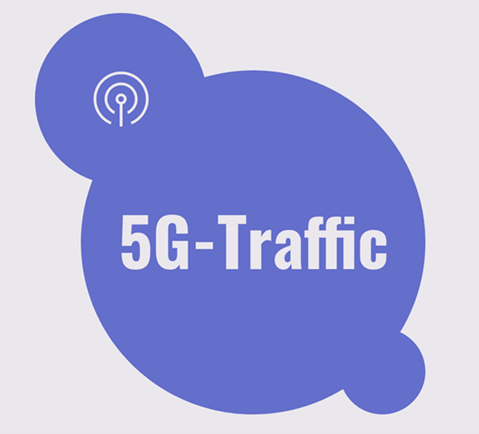 The on-going introduction of 5G technology in the international market and the capabilities that 5G architectures provides for "programmable" networks raise challenges for innovative solutions that improve the use of network resources. The goal of 5G-Traffic is to develop a framework that optimizes the performance of 5G networks with software that runs on the control plane and automates the management of forwarding rules at the data plane. The basic innovation of 5G-Traffic is the use of machine learning to classify traffic and predict its volume, so that the most appropriate forwarding rules are immediately applied for packets in the network flow. As 5G technology is still at an early stage, such solutions are not yet available for use in a production environment. Due to the size of the market that is expected to be affected by the adoption of 5G networks, even minor improvements in the quality of service provided by these networks are expected to lead to significant socio-economic benefits.
For more information click here.
TelcoSNA
Social Network Analysis for Predicting Subscriber Evasion in the Telecommunications Sector using Machine Learning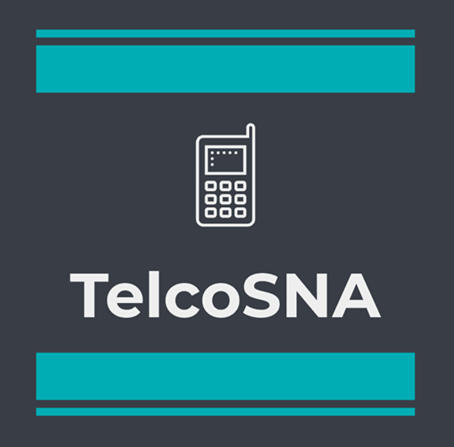 An important challenge that telecommunication providers face today is the detection of customers that are likely to leave the service in the near future, so that the providers can act to prevent the loss of their customers. The goal of TelcoSNA is to strengthen the predictive capacity of the mechanisms currently used by telecommunication operators to identify customers who are not very likely to recharge their SIM cards. The key innovation of TelcoSNA is the extraction of connected features that do not consider customers as isolated entities but result from queries or algorithms applied in the graph that represents the social network of all customers. In the context of this project, machine learning features will be extracted from this graph by applying network centrality measures and community detection algorithms. Due to the size of telecommunication market in Greece and abroad, even minor improvements in the predictive capacity of current classifiers will lead to significant socio-economic benefits.
BIOCONTROL



One consequence of human daily activity is the production of large amounts of wastewater, with adverse effects on both human health and the environment. Wastewater Treatment Plants (WWTP) are designed to treat wastewater coming from the dwellings and day – to –day activities of a city and aim to removing hazardous substances and producing clean water for disposal to the environment. In the developed countries and especially within the European Union (EU), strict guidelines and limits are enforced on the collection and treatment of wastewater and on the quality and specifications of treated water, before it is discharged to the environment.
In order to control the daily operation of WWTPs conventional methodologies are applied, which achieve the objective of compliance with the quality standards, but they lead to far from optimal operating conditions. Accordingly, there are significant margins for reducing operating cost of WWTS, mainly from energy savings, leading to subsequent CO2 emissions reduction.
This project aims to the development of a novel control methodology for WWTPs, based on the Model Predictive Control (MPC) technique, i.e. the development and the implementation of a mathematical dynamic model of the process as well as of the disturbances (the amount and the quality of the influent) for the prediction of the systems future behavior
The project includes the installation and implementation of the necessary portable measuring equipment, software and the proposed control methodology to the WWTP located at Sparta, Laconia, which will enable the collection and processing of real industrial data, the evaluation of the benefits of the proposed methodology and the comparison to the existing methodologies. Apart from the obvious benefits on the operation of existing WWTS (reduction of both energy expenses and emissions of gaseous pollutants) and job creation, we strongly believe that a very important business opportunity will be created by integrating the method into new WWTPs, mainly in developing countries, where sewage treatment is still very limited.
For more information please click here.
PLACE
Digital Platform for Circular Economy



The proposed project objective is the development of a online,digital platform and application of a crowdsourcing mobile application, for the creation of an integrated digital support system for recycling services and actions.
The innovation of the project lies in the use of crowdsourcing logic to empower the most active recyclers in each local community to optimize waste management programs in their area, a model applied for the first time in Europe. Recyclers' participation will take a variety of models, from providing education to their fellow citizens and taking initiatives to solve observable dysfunctions in a program, as the coordination and interconnection of their needs with content exchange of products and services to extend their lifecycle and maintenance the availability of their resources. An innovative waste resources (no waste anymore) intelligent management system based on data analytics and crowdsourcing tools. An innovative, efficient and effective decision making system, constantly updated and optimized, for the development and optimal selection of alternative models of recycling and promote the implementation of the circular economy model at municipal and local level. The proposed project's primary objective is to optimize existing or planned recycling programs at the level of citizen participation and the purity of the materials involved in each program.
Overall the project aims to create an environment, attractive to volunteer recyclers by upgrading the recycling process to collective action with an organized and participatory organizational one line structure. While the recycling path has so far appeared to be more individual and complex, an online community is being created where users can turn around at any time to resolve their questions and submit their concerns. They are therefore encouraged to participate more systematically in their region's recycling program, which significantly increases their profitability and sustainability. Finally, the project attempts to attract a wide range of enterprises and stakeholders involved in the recycling policy and services.
For more information click here.
PALANTIR
Practical Autonomous Cyberhealth for resilient SMEs & Microenterprises (H2020-SU-DS-201)
SMEs and MEs constitute a very large part of the economy and are thus integral to the EU's economic growth and social development. However, they often have no systematic approach for ensuring digital security and 60% of them not being able to recover economically from a cyberattack. PALANTIR aims at bridging the gap between large enterprises and SMEs/MEs, by providing multi-layered, infrastructure-wide threat monitoring, cyber-resiliency and knowledge sharing in a heterogeneous ecosystem, while at the same time being able to market these services to third parties in the form of Security-as-a-service (SECaaS). PALANTIR will implement a coherent privacy assurance, data protection, incident detection and recovery framework, focusing on the case of highly dynamic service-oriented systems and networks, taking advantage of their inherent programmability features and abstractions. PALANTIR will also focus on cyber-resiliency leveraging the features of service-oriented systems key building features by a) applying and exploiting Network Functions Virtualization (NFV) and Software-Defined Networking (SDN) technologies; b) considering emerging paradigms such as the application of scalable artificial Intelligence, standardization and threat-sharing techniques to risk analysis, network operation, monitoring and management and c) ensuring the SME's compliance with the relevant data privacy and protection regulations in the data breach age, implementing the «Privacy by Default» and the «Privacy by Design» principles on how personal data is collected, used, transferred and stored between 3rd party businesses and entities. The end result will be an evolving, expandable and unified framework, tailored to the individual needs of every SME and ME, reducing the complexity level of usual security tools while still being affordable and thus attractive for adoption.
For more information click here.
ERATOSTHENES
Secure management of IoT devices lifecycle through identities, trust and distributed ledgers (H2020-SU-DS-2018-2019-2020)
ERATOSTHENES will devise a novel distributed, automated, auditable, yet privacy-respectful, Trust and Identity Management Framework intended to dynamically and holistically manage the lifecycle of IoT devices, strengthening trust, identities, and resilience in the entire IoT ecosystem, supporting the enforcement of the NIS directive, GDPR and Cybersecurity Act. ERASTOSTHENES will leverage breakthrough solutions: (a) the first-ever enclosure of cybersecurity features in IoT devices through deployment of Trust Agents and continuous trust evaluation within the network in a contextual and social approach; (b) decentralised identity management mechanisms to conciliate requirements of self-sovereignty and privacy preservation in a distributed/transparent trust model along with disposable identities; (c) self-encryption/decryption at device-level with a whole system automated recovery process (incl. software, crypto-key material, identities) after an attack based on a multi-layer recovery model; (d) threat-analysis models based on federated learning and edge execution to continuously monitor devices and detect attacks; (e) collaborative IoT threat intelligence sharing across ledgers to adapt detection/defense mechanism to the evolving security conditions and assist the IoT life-cycle; (f) integration of Physical Unclonable Functions in trust framework and distributed ledgers. Finally, it will support enforcement of the NIS directive with a security information sharing mechanism based on inter-ledger technologies to support exchange of trust and security information among stakeholders, enhancing collaboration, vulnerabilities' disclosure, and secure management of software updates. The overall vision of ERATOSTHENES is to provide core cybersecurity features to be adopted by manufacturers as baseline certification elements in the production of devices and throughout their entire lifecycle. The solution will be validated in 3 industrial cases: Automotive, Health, Industry 4.0.
For more information click here.
TANGO
Digital Technologies ActiNg as a Gatekeeper to information and data flOws (HORIZON-CL4-2021-DATA-01-01)
TANGO will establish a stronger cross-sector data sharing, in a citizen-centric, secure and trustworthy manner, by developing innovative solutions while addressing environmental degradation and climate change challenges. The overall outcome is a novel platform exhibiting the following capabilities: user-friendly, secure, trustworthy, compliant, fair, transparent, accountable and environmentally sustainable data management, having at its core technology components for distributed, privacy preserving and environmentally sustainable data collection, processing, analysis, sharing and storage. This platform will promote trustworthy and digitally enabled interactions across society, for people as well as for businesses. TANGO will leverage the power of emerging digital technologies to strengthen the privacy for citizens and private/public organisations, reduce costs and improve productivity. It will unlock the innovation potential of digital technologies for decentralised, privacy-preserving applications, while making accessible and demonstrating this potential within the GAIA-X and EOSC ecosystem. With 37 key partners from 13 countries, TANGO, is uniquely positioned to provide a high impact solution within the transport, e-commerce, finance, public administration, tourism and industrial domains supporting numerous beneficiaries across Europe. Through the provision of TANGO technologies, a trustworthy environment will be designed acting as a gatekeeper to information and data flows. Citizens and public/private organisations will be empowered to act and interact providing data both online and offline. TANGO will focus its activities on 3 main pillars: (i) the deployment of trustworthy, accountable and privacy-preserving data-sharing technologies and platforms; (ii) the creation of data governance models and frameworks; (iii) the improvement of data availability, quality and interoperability – both in domain-specific settings and across sectors.
For more information click here.